Customize your Bullfrog Spa
Bullfrog hot tubs have a variety of accessories and color options to compliment and beautify your spa. If you have any questions or comments or would like to view a more comprehensive collection of hot tub accessories please contact us.
Cabinet Colors | Shell Colors | Control Systems | Stereos | Lighting | Cover Accessories | Steps | Jets | WellSpring
Spa Cabinet Colors
Spa Shell Colors
Spa Controls
Computerized Control System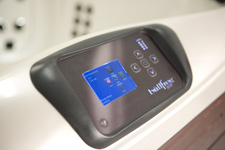 All Bullfrog Spas come equipped with state-of-the-art Balboa™ computerized control systems. When it comes to spa controls, Balboa is not only the industry leader, but producers of the most reliable and innovative control systems available. Each Balboa control system is engineered to thrive in the grueling hot and humid environment of any hot tub.
Control your Bullfrog Spa with your Smart Phone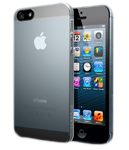 Bullfrog Spas are able to be controlled with your smart phone. There are several different ways you can control your spa from the convenience of your own smart phone. These include being able to control heating and jet functions as well as certain spa security monitoring functions. We are continually working on better and more powerful app controls and you can be assured that even more remote functionality will continue to be developed with upgrades available.
Auxiliary remotes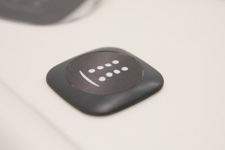 Spa-side remote touch pads are available for locations of the spa that are away from the main controls. This gives you a simple and convenient way to control the jets without leaving your seat.
Spa Audio Systems
Your integrated spa stereo further personalizes your spa experience by allowing you to choose ultimate soundscape for relaxing in your Bullfrog Spa. Bullfrog's 100% waterproof audio systems utilize premium components to produce rich sound quality. These premium marine-grade stereo units are compatible with iPod, iPhone, Android phones and nearly all MP3 players so you can choose the way your relaxation sounds. Bullfrog offers 3 stereo system options:
Elite Audio System
Our Elite Stereo System, available on A Series and R Series Spas, provides top-quality sound to enhance your spa relaxation experience. The Elite System's powered sub woofer combine with dedicated speakers located throughout the spa in each premium seat to produce a smooth rich sound wherever you happen to be seated in the spa. You can choose from your favorite albums, artists, or mixes as you relax or socialize and you can control it remotely without having to get out of the spa.
Features:
• Optional out-facing Yard Speakers
• Powered sub-woofer
• Spa-side waterproof iPod, iPhone, MP3 locker
• Bluetooth compatability
• USB, iPod, iPhone, and 3.5mm MP3 player inputs
• FM Tuner with saved presets
• Floating remote control
Life Audio System
Bullfrog's Life Audio System, available on A Series and R Series Spas, is a spa audio system that sounds great at an affordable price. Play your favorite playlists, artists or songs directly from your iPod, iPhone, Android Phone, or MP3 player. This is the perfect option if your would like the option of occasionally listening to your favorite songs in the spa direct from your device.
Features:
• 4-8 waterproof in-spa speakers
• Passive sub-woofer
• Spa-side waterproof iPod, iPhone, MP3 locker
• 3.5mm input
Spa Lighting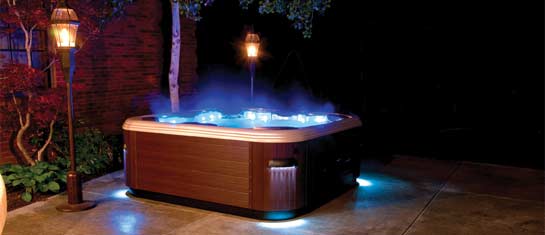 Premium Interior Lighting Package
Our A Series and R Series spas feature a premium interior lighting package to enhance your nighttime spa experience. These powerful and efficient LED lights, combined with a large logo center LED, are capable of producing virtually any color and they beautifully distribute the lighting effects of your choice throughout the spa. You can choose from a variety of effects ranging from calm cool colors to enhance your relaxing and romantic spa experience, to a slowly fading in and out of each color, to  a quickly changing multi-colored light show for hot tub parties.
Exterior Sconce LED Lighting*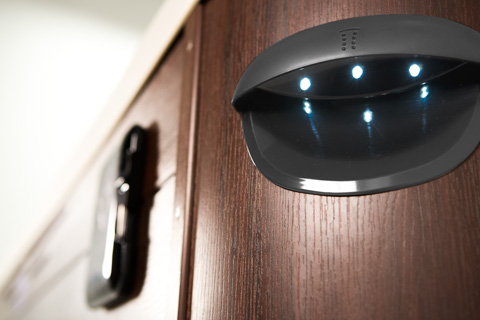 Exterior LED sconce lights are placed around the outside perimeter of your spa. These true white LED lights create a safe, illuminated spa environment and make a beautiful addition to your backyard sanctuary that you will appreciate in the evening hours.
Hot Tub Covers and Spa Cover Lifters
Cover Options:
Original Bullfrog Spa Hot Tub Covers are made of tough, durable materials that insulate your spa for maximum energy efficiency. The cover features locking clips which add the security of keeping your spa locked when not in use. Bullfrog Spa Covers come in two colors, Graphite and Sienna.
Cabaña Escape Spa Cover & Gazebo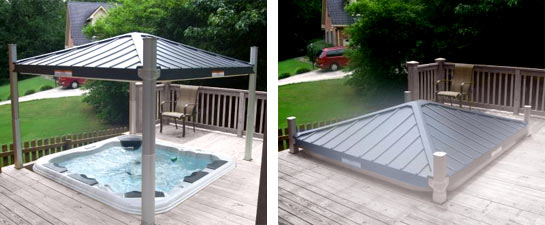 The Cabaña Escape makes the perfect addition to your Bullfrog Spa. This unique multi-use accessory functions as a gazebo, spa cover, and privacy shield all in one. The Cabaña Escape is motorized, giving you total control to raise it to the level you desire without any heavy lifting. It provides shade and privacy for you, as well as protection for your hot tub. The Cabana Escape also provides the security of a key-operated spa cover that locks securely in place when your spa is not in use. The solid molded composite top will shed rain or snow and last much longer than a standard hot tub cover. With a Cabaña Escape you will not need to purchase a separate spa cover, gazebo, privacy enclosure, spa cover-lifter, or the multiple standard hot tub covers you might otherwise need over the lifetime of your spa, your Cabaña Escape does it all.
CoverMate Cover Lifter

The simple design of Bullfrog's durable cover lifter provides true convenience and functionality. Lift the spa cover and enjoy relaxation in just a couple of seconds. This device creates a wonderful privacy wall while you are using your Bullfrog Spa.
DuraSteps

Convenient spa steps are color-matched to the spa cabinet. Create safe and easy access to your Bullfrog spa with the rubber non-slip surface and durable plastic construction.
Hot Tub Jet Options
Stainless Steel Jets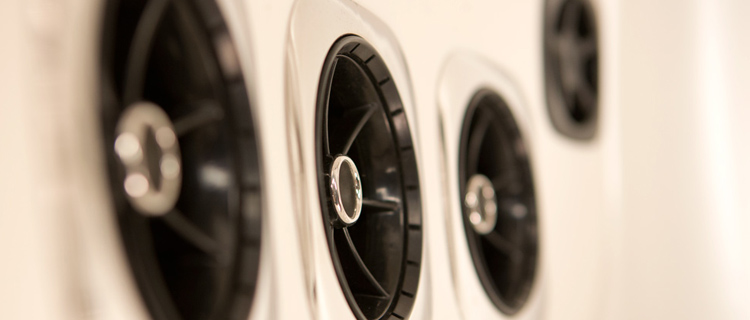 Upgrade your spa with polished stainless steel jet treatments to create incredible elegance and an upgraded look.
WellSpring Water Care Accessories

WellSpring High-Output Ozone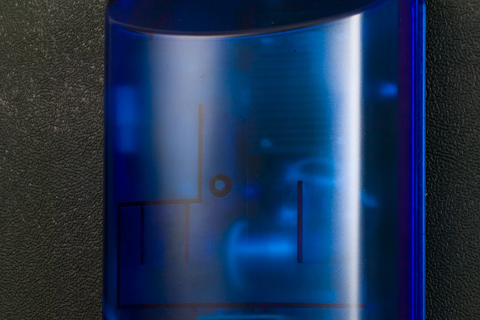 Features Corona Discharge Electrode Technology that consistently helps to keep your spa clean and even reduces the amount of chemicals needed in your spa.
WellSpring Filtration Pump
Our dedicated and programmable filtration pump improves water cleansing performance with virtually silent and vibration-free operation.