Customizable Spas
Design the hot tub of your dreams...
With Nordic hot tubs, you have a huge variety of options available to you when it comes to customizing the look and feel of your spa. Feel free to browse through the choices below for cabinet color, shell color, and other great features that will optimize your hot tub experience!
Cabinet | Shell | Cover | Cover Lifter | Steps | Ozone Generator
Cabinet Colors:
Shell Colors:
Cover Features & Colors:
• Marine Grade Vinyl - Tough and resilient, 100% polyester backing, mildew treated face and back.
• Tough Mesh Bottom - 10 ounce strand-coated polyester mesh with a 9x9 weave for superior strength.
• Commercial Quality Zipper - Heavy-duty 45 nylon zipper chain and aluminum pulls.
• Locking Buckles - Acetal locking buckles keep the cover on until you turn the key.
• BuckleHeat-Saving Seals - High density polyurethane foam moisture seals at folds to prevent heat loss.
• Sturdy, Reinforced Handles - Triple folded reinforced vinyl backed up with double-stiched seams for the sturdiest of handles.
• Triple Strength Straps - Triple folded reinforced vinyl double-sewn seams.
• Marine Grade Thread - Marine grade polyester thread is used on all Castle Covers.
• Insulating Polystyrene Core - Our expanded polystyrene has top-rated insulation properties and is available in three density choices and two thicknesses. The foam core's tapered design keeps rainwater off the spa cover.
• Easy-off coverDurable Reinforced Hinge - The aluminum channel reinforcement at the cover hinge adds strength and durability.
• 5 mil Moisture Barrier - The 5 mil thick tri-extruded plastic wrap prevents moisture form reaching the foam core.
• Rugged Reinforced Stiching - adds durability.
• Easy Care - A little soap and water does it.
• 2 Year Warranty - Our warranty guarantees unconditional product performance for two years from date of purchase on both materials and workmanship. (one year for inner foam core: see warranty form for details.)
• Designer Colors - Castle Covers come in a wide variety of colors.
Cover Lifter: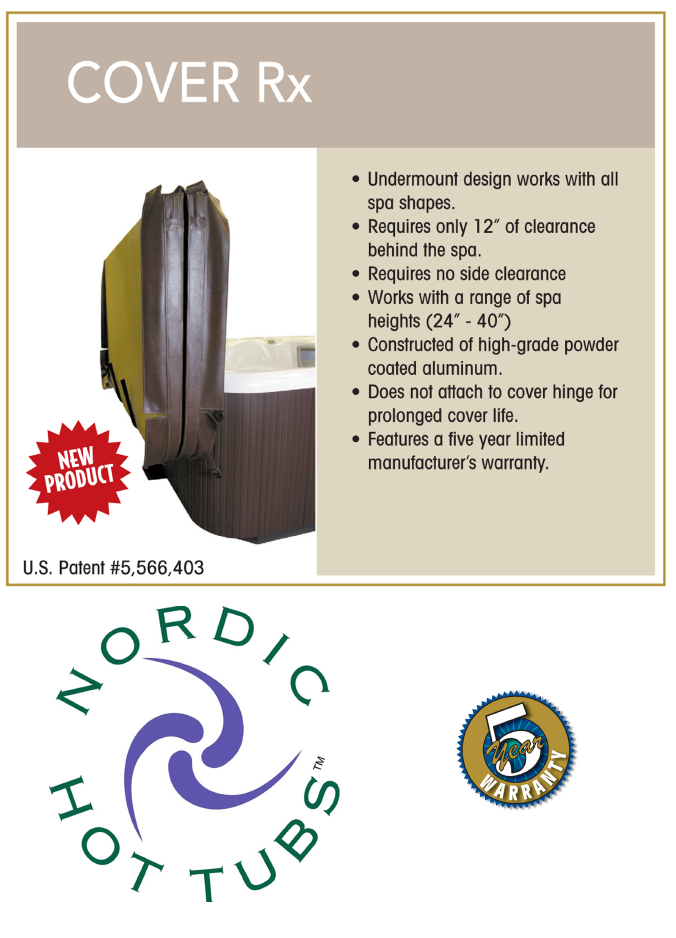 PermaWood™ Steps:
Available to match our PermaWood™ cabinets. These steps won't rot, splinter or warp.
28"w x 15"h x 25"d (curved)
28"w x 15"h x 21"d (Straight) 
Ozone Generator:
Nordic uses one of the newest members of Aqua Sun Ozone International's product line is the XL 30 with a Universal Power Supply. The Pacifica Pool and Spa Series are Corona Discharge ozone generators for residential spas.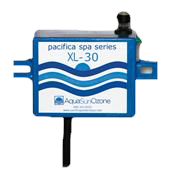 In addition to the advantages of Corona Discharge ozone technology, the Pacifica Pool and Spa Series saves money because the Corona Discharge cell uses less energy (no lamp, ballast, or starter) than an ultraviolet generator and cost less to replace.

Ozone does not have to be purchased or stored. Ozone is generated "on site" and is introducedinto the water automatically.
Ozone does not affect the pH balance of water, thus minimizing pH adjustments.
Ozone helps reduce total dissolved solids in water so that the water does not have to be changed as often.
Ozone eliminates much of the routine maintenance because it does such an effective job keeping the water clean.
For more information: http://www.nordichottubs.com/spa-accessories/ozone-generator.html#ixzz2KPsohOSi